place dhal in a bowl and saok for 1 hour. Drain thoroughly and grind for 10 minutes or until smooth.You can use a food processor to grind.Add a little water if it does not get smooth. Then put the batter into a bowl and add the chopped onions, chillies, ginger, curry leaves and salt and mix well.
Heat the oil and take golf ball size dough of mix roll them into a plastic paper.Flaten it and make a hole in the center. Carefully remove it and add to a heated frying pan and deep fry them well until golden brown.
Do not add a lot of water when grinding or else the dough will not stick together.
Method
Heat a pan with a little cooking oil and add the sliced onions. When it turns brown add the chopped garlic, ginger, green chillies and chopped curry leaves and stir it well. Now add salmon or ground meat. Then add curry powder, salt to taste, black pepper powder and crushed red chillie with vinegar and cook well.
Boil the potatoes in a pot until tender. When it's done peel the skin and mash it well with a fork. When the fish or meat mixture is done add the mashed potatoes into it and mix well.
Bun dough recipe
In bowl combine 3 cups flour, 1 tspn salt and sugar. Make a well in the center and pour 1 tspn mixed in 1 cup warm water and a little cooking oil. Stir until it form a ball and cover and let it rise in a warm place until doubled(about an hour).
When you are ready to make the buns place the dough on a board and take a little dough at a time and roll it and add 1 tbsn full of mixture in the center and cover it with the dough into a triangle shape or any shape you prefer. When you are done making the buns place them in lightly buttered trays and brush the top of the buns with egg white for color and bake in the oven at 375 F for 20-25 minutes or until well done.
You can use the frozen bread dough which you can find in the freezer section of your local grocery store.
---
CUTLETS
Ingredients
1 can Salmon or 1 lb ground beef /turkey
1 large onion chopped
2 or 3 green chillies finely chopped
2 cloves garlic chopped
Black pepper powder
Crushed red chillies
unroasted curry powder
1 tspn turmeric powder
Salt to taste
3 large potatoes
Bread crumbs
curry leaves chopped
Tamarind juice or vinegar
Cooking oil for deep frying
For the Batter
1 large egg
1 tbsn flour
Water
Method
If you are using Salmon drain the water and remove the bones and set aside. Heat a large non-stick pan and add a little oil.When it's heated add the chopped onions.When it turns golden brown add the chopped garlic, curry leaves, green chillies and stir well.Now add the Salmon or ground beef/turkey. Now add black pepper powder, curry powder, turmeric powder, Salt, crushed red chillies and stir well.If using salmon crush it well.Then add tamarind juice or vinegar and a little bit of lime juice and let it cook for a while. If using ground beef/turkey when it's cooked drain the excess oil.Let the mixture cool down.
Boil the potatoes well.Peel the skin and mash it well.Now add it to the meat or fish mixture and mix well.
Now make small balls out of the mixture and set a side.
For the batter, break one egg into a bowl and whisk it well.Now add flour and a little water and make a thick batter.
Drop the balls one at a time using a fork.Drain the excess batter and drop it into the bread crumbs and coat it on all sides.When everything is done heat a frying pan and deep fry the cutlets until it turns golden brown and serve.
TIP:When you are making cutlets for a party and if you want to make them ahead of time , make them and freeze them without deep frying. when it's time take them out of the freezer and deep fry them immediately. If not they might start to crack.
---
VEGETABLE/MEAT ROTI(WRAPS)
Ingredients for the vegetable filling
5-6 large potatoes
1 tbsn mustard seeds
1 tspn cumin seeds
3 green chillies chopped
chopped ginger
1 sprig curry leaves
1 small tomato chopped
1 large onion sliced
Turmeric powder
chopped green onions
Salt to taste
1 cup cooked chana dhal(chick peas)
crushed red chillies
Method
Boil the potatoes with the peel. Peel and mash and set aside.
Heat a little oil in a pan and add mustard seeds, cumin seeds, chana dhal, crushed red chillie powder as desired and some curry leaves and stir well.
When it's done add finely chopped green chillies, ginger, sliced onions and tomatoes and stir well.
Now add salt to taste, ground turmeric and 1 cup water. Cover the pan and let it simmer for 5 minutes. Then add chopped green onions and the mashed potatoes and cook for 2 minutes. Finally add a little ketchup and remove from heat.

Ingredients for the dough


4 cups all purpose flour
1 tspn salt
Water
Cooking oil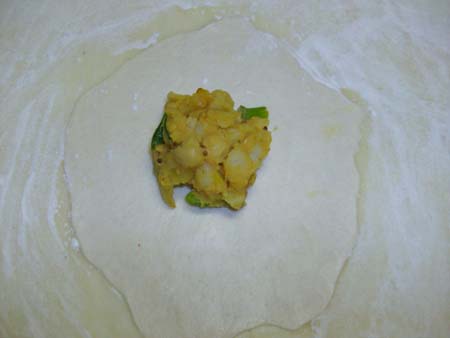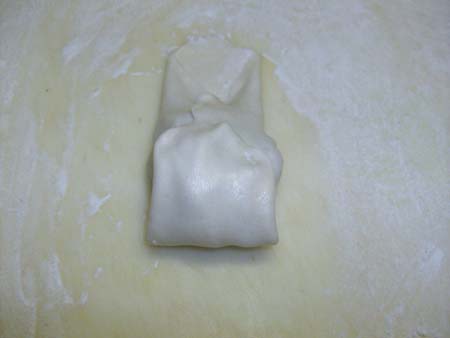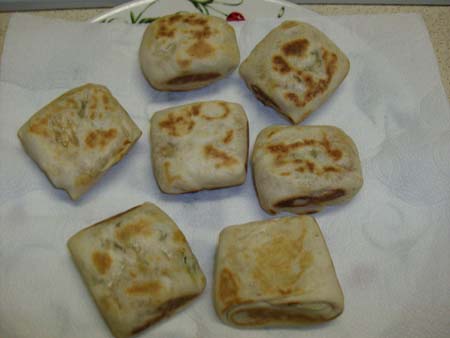 Method
Mix flour and salt together in a cooking bowl. Add half a cup of water to the mix, and then use your hand to knead the flour. The flour will look like crumbs; when this happens add a little water each time, and knead until the dough is made and the water is finished. If you need to add a little bit more water please do so, but do not let the dough get sappy and soft.
Now tear off pieces of dough about the size of a golf ball and place them in the same bowl (approximately 30 balls) and add cooking oil to cover the dough. Let stand for 5-6 hours.
When it's time remove the balls from oil one at a time and place it on a board and roll the dough and add 1 tbsn of filling. Now wrap the two sides then bottom and top to make a squre shape as shown in the pictures.
Heat a non stick pan and coat it with a little oil and add the wraps 3 or 4 at a time and brown all the sides and enjoy.
For the meat filling follow the patties mixture recipe.
---
EASY PATTIES RECIPE
Ingredients
For the Filling
1 lb ground turkey or beef
2 or 3 large carrots
2 tbsn green peas
1 large onion chopped
chopped garlic and ginger
Salt to taste
unroasted curry powder
2 green chillies chopped
crushed dried red chillies
chopped curry leaves
Vinegar
ketchup/tomato sauce
Method
Chop all the needed ingredients and set aside.Heat a pan and add a little cooking oil and temper the onions until golden brown.Then add chopped green chillies, garlic, ginger,curry leaves and stir well.Now add the ground beef/turkey and mix well. Then add salt, curry powder, crushed chillies, vineger, little bit of black pepper powder and cook the meat well.When it's done add the grated carrots and peas. Finally add a little ketchup and stir it well.
For the patties mixture
2 cups all purpose flour
1 cup butter or margarine
1 egg
salt
coconut milk(optional)
1 tspn Baking powder
Little bit of sugar
Method
Mix together all the above ingredients using suffient warm water to make a good dough.Knead the dough well and roll it onto a large board.Make circles using something round or use a pattie maker.Add a little filling in to the middle and carefully seal the edges.You can seal the edges with a fork and deep fry until golden brown or bake them in the oven at 350F for 20 minutes or until well done.
You can use Dumpling wrappers for patties if you are deep frying them.Thaw the dumpling wrappers and add a little filling into the middle and carefully seal the edges with a little water and then with a fork.
---
PRAWNS(SHRIMPS) IN BATTER
Ingredients
20-25 Prawns (shrimps)
For the Batter
1 Egg
4 ozs. flour
1/2 cup Coconut milk
1 tbsn salt water
Method
Shell the prawns with tails on.Season in vinegar, salt, and pepper.
To prepare the batter whisk the egg, add flour and coconut milk alternately to a suitable consistency.Mix in the salt water too and baking powder.
Heat the cooking oil .Dip one at a time in batter and fry in deep oil.
---
STUFFED CHILLIES
Ingredients
1/2 lb Banana peppers(malu miris)
1 small can Salmon or 1/2 lb fish or ground beef
2 potatoes boiled and chopped
2 Bombay onions chopped
2 small tomatoes chopped
1 dessert spn salt water
1 tspn black pepper powder
Cooking oil for frying
Mixture to boil Peppers
1/2 cup vinegar
1/2 cup water
1/2 cup salt water
For the Batter 4 oz. flour
1/2 cup coconut milk
1 tbsn salt water
1/4 tspn baking powder

Method
Slit the Peppers on aside, and remove seeds. Boil the vinegar, salt and water mix and slightly boil the peppers and drain off liquid.
Drain off the liquid from the can of Salmon(If fish or beef is used wash and boil with a little vinegar,salt and pepper).Temper the onions,chopped garlic,chopped green chillies and curry leaves.Then add salmon or boiled fish/ground beef and add the boiled potatoes and chopped tomatoes.Add pepper and salt.
Stuff the prepared Banana peppers(malu miris) with the mixture.
To prepare batter whisk the egg, add flour and coconut milk.Mix in the water too and baking powder.
Heat the cooking oil.Dip the stuffed peppers one at a time in the batter and immediately fry in heated deep oil.
Strain on a colander and then on paper towel-serve hot if possible.
---
COCKTAIL EGGS
Ingredients
6 hrad boiled eggs
2 ozs. mashed potatoes
2 ozs. grated cheese
1 oz butter
1/2 tspn pepper
1/2 tbsn salt
Tomato sauce

Method
Cut the boiled eggs in spiky edge in centre, and seperate in halves.Remove the yolks and sieve them. Mix together with the mashed potato, cheese, butter, tomato sauce, pepper and table salt. Pipe a little of the filling mixture to the egg halves and chill until you serve them.




---
DHAL(PARIPPU) VADAI
Ingredients

3 cups dry chana Dhal
2 green chillies, chopped
2 tbsn red chillie powder
2 tbsn salt
curry leaves, chopped
1 tbsn Maldive fish(optional)

Method
Soak Dhal in water for 6 hours or more.Take 1/2 cup of it separately. Grind the remaining portion coarsely without adding water.
Mix the ground dough with the remaining dhal.Then add chillie powder, chopped green chillies, curry leaves, salt, Maldive fish and mix it well.
Heat oil in a pan , make small round balls out of the dough and fry until golden and crispy.
---